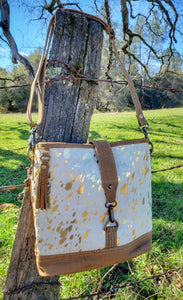 Golden Dunit Leather Hair on Bag
These awesome bags are made from a variety of canvas, smooth & hair on leather, recycled military tents and materials procured from the forests of India.  They are made using a natural, vegetable tanning process. The leather bags are made of premium, 100% genuine, quality leather.  These bags are strong, yet have a soft, natural look and feel. Every bag is truly handcrafted with a spirit of vintage, and a bold, unique look.  
Note:  Dimensions, as shipped, will be smaller than actual size as they are folded and compacted for shipping.  
The particular bag pictured here, is made from
 100% genuine leather and canvas.  
Inside is a nice cloth lining with multiple pockets and a zipper closure. 
14" WIDE X 10.5" HIGH X 5"DEEP and 22" ADJUSTABLE STRAP.