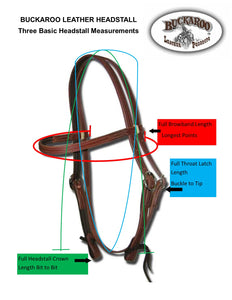 A Headstall Sizing Diagram
Let us help you get the tack of your dreams.  Use our diagram to help you measure correctly and order just the right size Buckaroo Headstall for your horse!
COB/SMALL/ARAB- Full crown length - (from bit all the way up the side of head over poll/crown down the other side) range fit - 38-41"; Browband - at longest point- 15 1/2-16"

REGULAR HORSE- Full crown length - (from bit all the way up the side of head over poll/crown down the other side) range fit - 41-44"; Browband - at longest point- 17"; Throat 43"

LARGE HORSE/MULE-  Full crown length- (from bit fits all the way up the side of head over poll/crown down the other side) range fit - 43-46"; Browband - at longest point- 18"  throat 47"

DRAFTS please give measurements with order