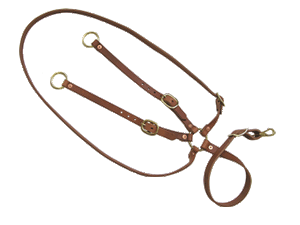 Martingale Heavy Harness
Buckaroo Leather Company has built their reputation on American made items! For over 38 years, we have used the highest quality leather available to produce top quality hand finished goods. Buckaroo Leather products are THE BRAND TO DEMAND!
Superior Leather made in AMERICA! This Fully ADJUSTABLE Martingale is made from the heaviest Harness Hermann Oak Leather. Martingale has a 1" Tie Down, 3/4" Ring Straps, and 5/8" Neck Straps with Hand Rubbed edges. This Martingale is available in NICKEL hardware.
The Hermann Oak Leather Co. has been around since 1881. The leather is tanned in the United States of America by four generations of the Hermann family. Each piece of leather is hand worked for a smooth, consistent and even color. Hermann Oak Harness Leathers are strong and flexible and maintain their body in use and have very little stretch. ONCE YOU USE THESE LEATHERS YOU WILL USE NO OTHER!
LM295