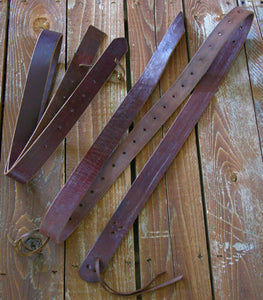 Pro Latigo Cincha Strap and or Half Breed
This cinch strap and or half breed off side billet is made from 8-9 ounce perfect, weighted and balanced California Red , brown or Black latigo leather. They are hand edged and rubbed down for an easy & balanced pull when cinching up! You have 3 choices , cincha styrap only, half breed only or both as a pair...
Latigo/Cincha strap is 1 3/4" wide.
Half Breed (long style off billet) is 1 3/4" wide
LG2303Pro LG234Pro matching pair