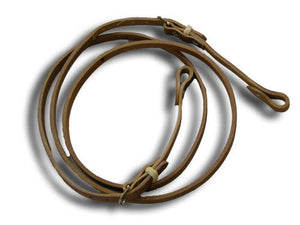 Leather Roping/Trail Reins
Superior Leather western loop one piece Reins made in AMERICA! Made from the finest quality heavy weight Hermann Oak Harness leather or Latigo for a smooth, rich, "broke in" feel. With adjustable Nickel Plate buckles and Rawhide Keepers. 5/8" adjustable from 8' to 10' lengths. These Reins are also available Lined and Oiled for extra softness! These reins are perfect for trail riding! Options for the leather and the bits ends are in the above drop down menu.
These Reins are the Extra Long Adjustable Trail Reins or Longer Roping Reins you have Been Waiting for!
LR2861R LR2851R