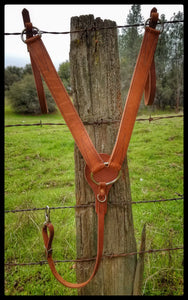 All Around/Pleasure Breast Collar
Hermann Oak Quality Leather Breast Collar; made from Hermann Oak leather.  This leather has that supple, "broke in" feel. This breast collar is 1 3/4" with 1" saddle tugs and 3/4" down strap. This breast collar is doubled and stitched and has a soft chap lining with nickel hardware. All sizes are available, contact us with extra large and draft size measurements. 
This breast collar is available in either medium oil or dark oil leather, with nickel hardware. This breast collar is for the trail rider who wants a quality performing leather, but does not want to sacrifice beauty. Our over the wither and over the neck straps work great on this. Properly cared for and maintained, this breast collar will have many years of superior performance. See here our matching over the WITHER strap  click here
Buckaroo Leather products are THE BRAND TO DEMAND!
BC50L/BC50