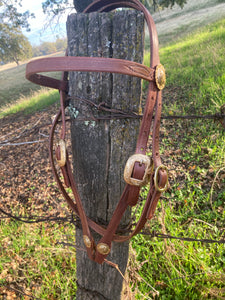 Brass Harness Headstall
5/8" Single ply extra heavy Hermann Oak regular brown or custom black harness headstall with a double cheek adjustment, hand engraved brass hardware and Conchos at temple and at the bit ends. Double adjustments makes it easy to fit your horse. Available in regular horse, large horse and mule sizes. And small & large draft just let us know sizing. Please inquire for black option and pricing.  
See our reins, harness split reins, that match this headstall. We can match most other styles too, just call Buckaroo John at 530-545-0139.
LH2761Engbrs