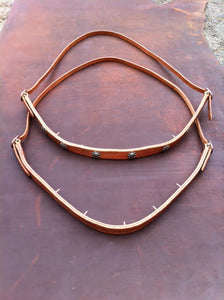 Bridleless Neck Rein Tack Collar
The Buckaroo Bridleless Neck Rein Tack Collar allows you to train your horse to ride without a bridle. Also called Cordeo. Great for relief from the bit! This neck rein collar is made from premium Hermann Oak Harness leather for a smooth, rich, "broke in" feel. The rein upper hand part is 5/8" wide and bottom neck part is 1 1/4" wide with just the correct weight. It is very adjustable to fit most any horse. Longest at 79" to shortest at 55". Has studs or no studs on the inside of the collar that kindly encourage your horse to neck rein, turn and stop. They are soft blunt end copper studs with 3 lengths available. OR plain smooth lining or extra soft chap rolled lining. Choice of plain working or with engraved antique silver conchas.
Horses do require extensive training before the Buckaroo Bridleless Rein Tack Collar can be used alone.
LR2848 LR2848A