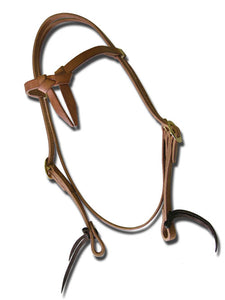 Cowboy Harness Leather Knotbrow Headstall
This Cowboy Harness Leather Headstall is for the Western hose rider who wants quality Western Leather Tack but does not want to sacrifice beauty.  This Hermann Oak Cowboy Leather Headstall is a Knotbrow style with a width of 3/4" or 5/8". This headstall is made from heavy weight single-ply leather and has a Double Cheek adjustment. There is a Rawhide Brow Keeper and ties at the bit ends. Choose from Solid Brass or Nickel Plate buckles.
Also available in a Large Horse, Mule or Draft Horse sizes with a width of 3/4" for an additional cost. Email us at info@buckarooleather.com with your specific measurements for a custom fit!
LH278/LH2781