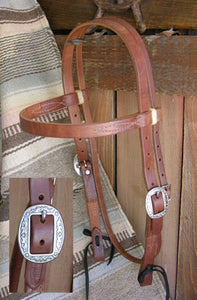 Pro Harness Headstall 5/8"
This Hermann Oak Heavy Harness Quality Leather Headstall is available in 5/8" width. This is a Browband style Headstall made from heavy weight PREMIUM single-ply Harness leather. It is easy to adjust with a double Cheek adjustment. This headstall is Finished with engraved stainless buckles! There are Hand braided rawhide loops on the brow.
This Cowboy Harness Leather Headstall is for the Western Horse rider who wants a quality performing piece of leather horse tack but does not want to sacrifice beauty. This Buckaroo Headstall, properly cared for and maintained, will have many years of superior performance. This cowboy headstall is an excellent addition to your horse tack equipment.
LH2761pro