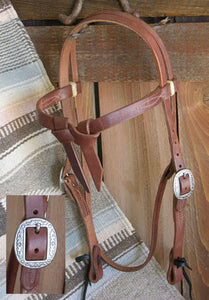 Knotbrow Pro Harness Headstall 3/4"
This Cowboy Harness Leather Headstall is for the Western rider who wants a quality Western Leather Tack but does not want to sacrifice beauty. This PREMIUM Hermann Oak Cowboy Leather Headstall is a Knotbrow style with a width of 3/4". This Headstall is made from heavy weight single-ply leather and has a Double Cheek adjustment. There is a Rawhide Brow Keeper and ties at the bit ends and is finished with engraved stainless buckles. This headstall is available in a Large Horse or Mule sizes.
You can Email us at info@buckarooleather.com with your measurements for a custom fit!
LH278pro