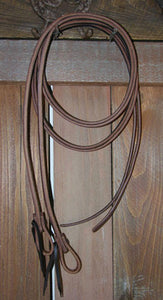 Weighted at Bit, Famous Lined Split Rein
Our finest Quality weighted Leather Split Reins are nice and heavy through out, and lined with soft chap leather, but 3 ply for 24", extra weighted, at the bit end for the perfect drape and communication. 1 pair Weighs about 2- 2 1/2 lbs.  Built for show and training! Quality Hermann Oak Double and Sewn Harness Leather with soft chap lining, Oiled and Hand Rubbed for that superior soft and supple "broke in" feel-the best on the planet! Choose oiled standard brown harness or black oiled.
Available in 1/2" LR2693, 5/8" LR2703 and 3/4" LR2713 widths in 7' or 8' lengths. 
This is the only Rein of its kind on the market! Perfect weight for training.
LR2693 LR2703 LR2713