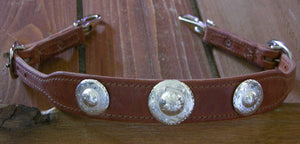 Wither BC Strap
NEW design, Over the Neck Breast Collar strap designed to go up over the withers to hold your breast collar up in the correct position over the shoulder, so as not to rub across your horse's shoulder. This strap is fully adjustable and snaps on to any breast collar. Available in colors: Harness or Oiled Medium Brown Golden Bridle. This strap has three beautiful, hand engraved, silver old time UFO conchas.
See below our Concha category for many other concha styles available.
Watch this video by Buckaroo John to learn more!
-BC12/13-SPUFO