Posted by John Brand on
Pack horses (which can also be mules, donkeys or ponies) have been around for as long as the horse has been domesticated, however this blog post will focus on their history in North America.  During times when there were no established roadways, goods were hauled to remote locations by way of the pack horse.  Park horses were much more quick than wagon. Loads that would spoil, such as fruit, were sent via pack horses. Pack horses and pack strings were used by so many... Fur trappers: Miners: Native Americans: And even during times of war. The US Forest Service even had...
Posted by John Brand on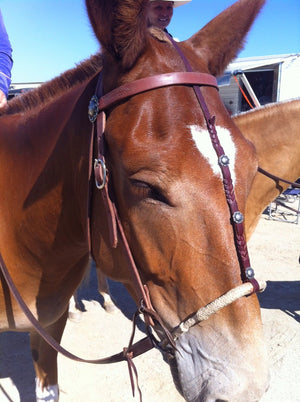 Larger horses, mules and draft horses are becoming more popular every day!!!! This means there is now a large demand for quality American leather horse tack and equipment that fits properly. Large Horses: All large horses have longer heads, are broader across the brow, and have larger throats.   Mules: Following Information is from Horse and Mule Trainer Jerry Tindell. "Mules are built differently than horses due to the influence of the donkey. The donkey gives the mule a broader forehead, larger eyes and a wider base at the ears. The average sized horse brow band is typically too short at...