Posted by John Brand on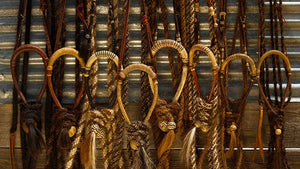 What is a mecate? The mecate is the rein portion of a hackamore, which is a type of headgear for the horse.  The unique part of the hackamore is that it does not have a bit, but uses a braided rawhide noseband called a bosal.  The bosal works on pressure points on the horse's face, nose, and chin. The mecate is a rope made from horse hair or soft feeling rope that serves as reins and lead rope, should one need. The Persians in 500 BC were one of the first to use a thick plaited noseband which was called...
Posted by John Brand on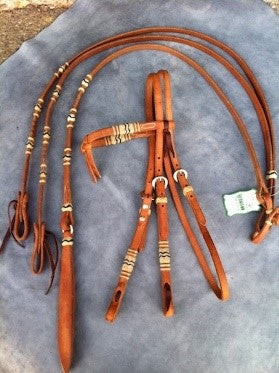 There are several types of Western Reins.  The type of riding you like to do and what type of headstall and bit or bitless bridle, hackamore, etc., that you use will determine your rein choice.  Of course, personal preference will factor into your decision as well.  Let's look at some of the options available. Split Reins Split reins are usually 8' in length.  They are single pieces of leather which are connected to the bit by loops which are tied, connected by Chicago screws or quick change, swivel and snap closures.  They typically come in 1/ 2", 3/4",  5/8" and...